I am so excited to announce that after a year of wanting to offer a healing product with my coaching services, that day is finally here!
I have created a product to help heal your mind during the holidays!
Archangel Jophiel is the archangel of beauty!  You can ask her for help when you need to beautify your thoughts!
We all need help beautifying our thoughts during holiday stress (good or bad)!  I created this blend in order to help you connect with this beautiful angel during the holidays!
Watch the video below or just keep reading
Click one of the options below to order:
This magical blend is full of citrus essential oils which help uplift mood and fight depression.  They help you with focus and also to create a more beautiful life with more beautiful thoughts!  Let your thoughts fly free with the angels!
Every bottle is made in my magical workshop and is infused with healing energy!
I use only doTERRA Certified Pure Therapeutic Grade essential oils!
Every bottle has over 30 drops of doTERRA CPTG oils in it mixed with organic fractionated coconut oil!
This is a limited time offer!  When I am out, I am out!  I used a limited edition kumquat oil, which is not currently available from doTERRA.
You also get to choose your free BEAUTIFUL angel ornament if you order today or tomorrow!  Fill your house with angels this holiday season to remind yourself!  They angels are with you!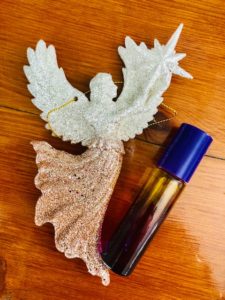 Hurry before they are out! I had a great response yesterday, so I'm not sure how much longer they will last! They make a great gift for yourself or an angel friend!
A Course in Miracles says angels are the thoughts of God. Marianne Williamson reminds us that angels have wings. Think of your thoughts right now. Which ones have wings?
Archangel Jophiel is the Archangel that helps to beautify your thoughts! This blend helps you connect with her! Use it preventatively everyday and when your thoughts need beautifying.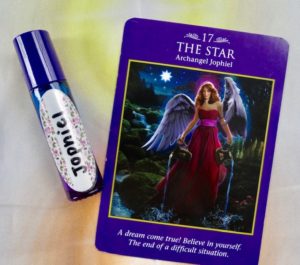 As you're using the blend, remember to:
1. ASK Jophiel for help to see things differently.
2. LISTEN for the response.
3. ALLOW yourself to have more beautiful thoughts!
Let me know what color bottle and what ornament you want in your order!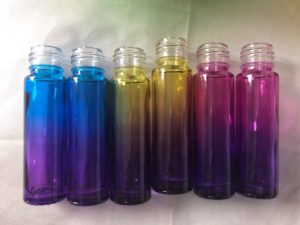 Ingredients:  Organic Fractionated Coconut Oil, doTERRA Lemon Essential Oil, doTERRA Lime Essential Oil, doTERRA Wild Orange Essential Oil, doTERRA Kumquat Essential Oil, doTERRA Peppermint Essential Oil
Click on of the two links below to order!
Peace, Love, and Angels,
Elizabeth